PBS Revives childrens learning TV show 'The Electric Company'
(ChattahBox) — A new generation of kids are going to be able to learn and enjoy 'The Electric Company'. The original Electric Company was on from 1971-77, and was a sort of a hip older sibling to Sesame Street. Before he became a brilliant movie actor with an Oscar and dozens of films under his belt, Morgan Freeman was watched by a generation of children as the Easy Reader, Count Dracula, and hosts of other characters
Starting in January, a new version of the show will debut, to be shown on PBS Kids as part of their Raising Readers effort.  The new version being developed by Sesame Workshop, won't look much like the old one, but it will still serve the same purpose to entertain and teach children. Refitted for the age of hip-hop and informed by decades of further educational research on reading, the 2009 version of "The Electric Company" is a weekly, more danceable version of its former daily self. The new Electric Company will feature a group of four culturally-diverse teens—Lisa, Keith, Jessica, and Hector—who have powers to make and manipulate words in (educationally) cool ways. From a natural-foods diner, somewhere in New York City, they fight word crimes, particularly those of the mischevious (but not truly evil) Pranksters.
Each episode will tell a story featuring these characters, with animated and live-action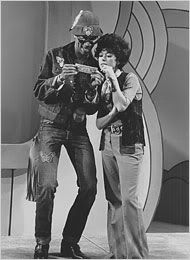 phonics lessons sprinkled in here and there, focusing on vocabulary. It will emphasize vocabulary from five "conceptual domains" (animals, the body, weather, ecosystems and the solar system) and tell a story in multiple acts. That's something the original show didn't really do, but that's another sign of the times, since PBS Kids' research has shown that kids today need a lot of help on that front. They have also, as with the original, made sure to make the show funny, because they know they'll hold kids' interest a whole lot better if they do. And there will, again, be someone in a gorilla suit making occasional appearances.  (A cameo has been offered to Rita Moreno in photo with Morgan Freeman, a regular on the original "Electric Company," remembered for her show-opening exultation, "Hey, you guyyyyys!")
Not surprising for a show premiering in 2009, there will be an online piece as well, not to mention a magazine being published by Marvel Comics. To get things right the show has done and are continuing to do a ton of testing of the show's concepts, to make sure they're hitting the right notes. They have already begun conducting an outreach program to twenty low-income, low-literacy locations around the United States, to inform parents and kids about the program's impending premiere. You can watch some short previews on the show's website.
Reported by: Hot Momma Celebrity Gossip
Comments