Guy Ritchie reunited with his sons as custody battle looms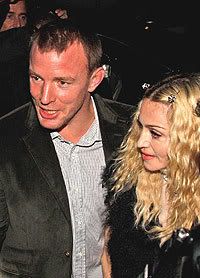 Hollywood (ChattahBox) – Hot Momma Gossip is reporting, that after being whisked away to the US by Madonna, who is in the midst of her Sticky and Sweet tour, an emotional Guy Ritchie was reunited with his sons Rocco and David at a London airport this morning after weeks apart. Rocco and David have barely seen their father since Guy and Madonna announced their plans for divorce in mid October. But as Guy held his two boys close for the first time in weeks, his estranged wife tightened her grip from the other side of the Atlantic. The UK Daily Mail reports that Madonna has issued a list of demands that Ritchie must meet while the children are with him in London. It includes a ban on TV, non-organic food and clothes not sent by her. A custody arrangement for the children remains perhaps a major battle for the estranged couple, who were married for almost eight years.
Madge who has a daughter, 12-year-old Lourdes, whose father, Carlos Leon, lives in New York, reportedly wants to leave the family's London base and move back to the U.S. Last week Guy, 40, hired a top lawyer in his battle with Madge over where their children should live. Stephen Cobb, QC, is regarded as the leading specialist in divorce cases in which the country of residence of the children is in dispute. It's also being reported by Britain's Daily Mirror newspaper that Guy planned to divorce Madonna over the summer but was ordered not to disrupt the singer's Sticky & Sweet tour plans. The pair had been under intense media scrutiny since the summer (08) amid rumors she indulged in an affair with New York baseball star Alex Rodriguez. Madonna and her rep claimed at that time that the divorce rumors were false and the marriage was fine.
Comments