Dominick Dunne loses long Cancer fight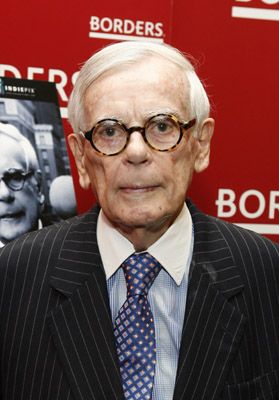 [Chattahbox] Dominick Dunne, the voguish writer, producer and TV raconteur whose incisive writing regarding O.J. Simpson's first trial brought him national attention, and significant scorn, has died at his home in New York. He was 83.
Born into a wealthy Irish-Catholic family in Hartford, Connecticut on October 29, 1925, Dunne made his debut in Hollywood just after distinguished World War II service that won him a Bronze Star for heroism. But twenty years as a TV producer, adrift in an ocean of astringent hypocrisy and asinine 'artistes' soon took their toll, and he moved to the wilds of Oregon to conduct his own rehab.
Returning from this self-imposed exile, reborn, recovered and now a published auteur, Dominick's life fell apart when his beloved daughter, Dominique, was found dead in her home in 1982.
Police determined the 22-year old had been strangled by her husband after a domestic dispute. Watching his daughter's cold-hearted killer receive just six-and-a-half years for his repugnant revenge incensed Mr. Dunne, but a chance meeting with Vanity Fair's Tina Brown gave him the platform he needed to make his views known.
The husband, John Thomas Sweeney, was released after just 18-months, but Dunne's withering article relaunched his career.
From this righteous inception, his tenure at 'Fair' grew into, "Dominick Dunne's Diary" – one of the most widely-read columns the magazine ever had. And in 1994, Dunne found the case that became his life's cause; NFL star, O.J. Simpson was arrested for murder, and Dunne made it clear to his readers that his verdict was in – O.J. was guilty, and Dunne did not grant appeals.
Close friends tell the LA Times Dunne relished his work: A 'Court TV' regular, he reported details by day, then attended luxuriant dinners with the stars every night, holding Elizabeth Taylor, the Reagan's and Princess Diana all entranced by his words."O.J. Simpson definitely improved my social position," he quipped to 'USA Today' at the time.
But opinions are risky, and an outlandish narrative in which he seemed to implicate former California Representative Gary Condit in the Chandra Levy case gained Mr. Dunne an $11-million lawsuit from his unproven prey. The two later settled out of court for an undisclosed sum.
Last year, Dunne returned to the case that would become his last song. O.J. Simpson was once more on trial, and though feeling unwell Dunne ignored Doctors orders and attended the court. After ten years of waiting, Dunne, at last got his wish. And only then did he share his prognosis with fans.
Having faced-down prostate cancer in 2001, Dunne revealed the disease had returned – this time in his bladder. Treatment started at once, but his Doctors soon told him the prospects were bleak. With stalwart bravado, Dominick departed their care and returned to his home in Manhattan, where he slipped from this world late on Wednesday surrounded by friends.
"I've lived this very dramatic life," he told the London Times late last year. "Nothing has been ordinary, and I want to have the experience of the last breath. I want a little drama. I want something in the papers."
It would seem this fine man got his wish.
Comments