Mike Tyson Could Face Serious Charges in Airport Scuffle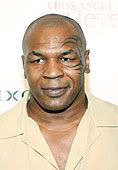 (ChattahBox) — Former feared heavyweight champion Mike Tyson has found himself in legal trouble again. He was arrested at the LAX airport on Wednesday night, when he allegedly got into an altercation with a paparazzo outside the United terminal who got a little too close to his family.
Photographer Tony Echevarria, reportedly approached Tyson while he was in line with his family checking in for a flight. Tyson struck Echevarria once in the face and down he went bloodied as the former boxer tried to snatch the film from his camera. Tyson was arrested and transported by police from the airport to the 77th Street Station of the LAPD shortly after 5:30 PM Wednesday. Echevarria was allegedly treated for a cut to the forehead at a hospital. Tyson was booked on a misdemeanor battery charged and later released on his own recognizance after posting $20,000. But given that he's a former boxing champ, could face more serious charges, like assault with a deadly weapon, namely his hands.
Tyson through a spokeswoman that the photographer behaved aggressively and attacked him while he was traveling with his wife and 10-month-old child. Tyson told investigators that the photographer struck him in an apparent attempt to provoke him. His spokeswoman said Tyson "acted in self defense as a father protecting his child." Some eyewitness accounts back each of the versions.Tyson earlier this year, lost his four-year-old daughter Exodus, in a tragic accident where she was playing on a treadmill and became entangled in a cord located under the machine's console.
Comments